2023 INFINITI QX55 Model Review: A Stylish and Sporty Ride Near West Chester, PA
The 2023 INFINITI QX55 has arrived, and it's better than ever! This sleek and sporty crossover is the perfect blend of style and performance, and we're thrilled to have it in our showroom at INFINITI of West Chester. With its sleek body lines and aggressive front grille, the QX55 is sure to turn heads wherever you go. But don't just take our word for it - come on down and see it for yourself!
Why You'll Love the 2023 QX55: Performance and Efficiency Combined
The new INFINITI QX55 is a driver's dream come true, delivering a thrilling and efficient ride every time you hit the road. Here are just a few of the reasons why you'll fall in love with this INFINITI crossover:
Gas mileage: The INFINITI QX55 gets an impressive estimated 23 city / 28 highway mpg, so you can enjoy more time on the road and less time at the pump.
Engine: The INFINITI QX55's standard 2.0-liter turbocharged 4-cylinder engine delivers 300 horsepower and 295 lb-ft of torque, making it one of the most powerful vehicles in its class.
Handling: The INFINITI QX55's rear-wheel drive platform provides an incredibly smooth and stable ride, making it a joy to drive on winding roads.
New INFINITI QX55 Has a Sophisticated and Comfortable Interior
The new INFINITI QX55's interior is just as impressive as its exterior. With premium materials and advanced technology, the 2023 INFINITI QX55 offers a comfortable and sophisticated driving experience. Here are a few of our favorite interior features:
Standard leather-appointed seats: Sink into the soft, supple leather of the INFINITI QX55's standard seats and enjoy the perfect combination of comfort and style.
8-inch infotainment display: Stay connected on the go with the INFINITI QX55's 8-inch infotainment display, which includes features like Apple CarPlay and Android Auto.
Available panoramic sunroof: Let the sunshine in with the INFINITI QX55's available panoramic sunroof, which provides an open and airy feel to the cabin.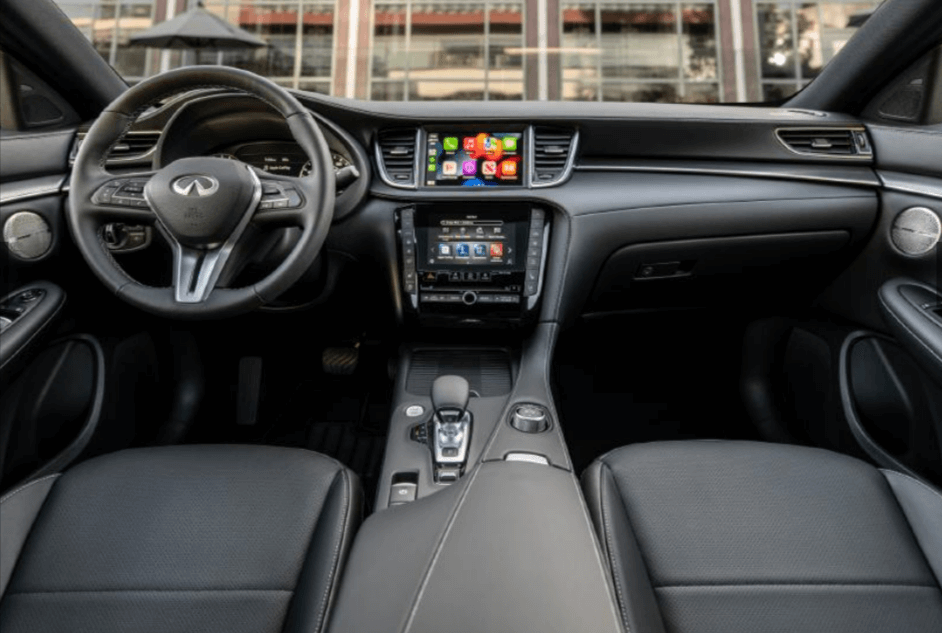 Trim Levels and Styles to Suit Your Taste
The 2023 INFINITI QX55 is available in two trim levels, and each one offers a unique combination of features and style. Here's what you can expect from each trim level:
QX55: The base model includes features like 19-inch alloy wheels, automatic emergency braking, and the 8-inch infotainment display.
QX55 Luxe: Upgrade to the QX55 Luxe for additional amenities like a Bose premium audio system, a 360-degree camera, and a head-up display.
Test Drive the 2023 QX55 Today at INFINITI of West Chester
Now that you've learned all about the 2023 INFINITI QX55, it's time to experience it for yourself. Visit our showroom at INFINITI of West Chester and take this stunning crossover for a test drive today. You'll love the QX55's combination of style, performance, and efficiency, and we're confident that it will quickly become your favorite ride. So don't wait - visit us today and see what the QX55 can do for you!